Benefits of using wall cladding
There are a wide range of benefits to using wall panelling, bathroom panels are an alternative to tiling and come with a whole host of benefits, which we will outline below:
1. Completely 100% Waterproof
All our panels are waterproof, and watertight with their tongue and groove interlocking system. Panelling is predominately a ply core or exterior grade MDF with a waterproof coating on the panel design, this makes all of our panels water and moisture resistant.
2. No Grout Required
Bathroom wall panelling will always offer the ability to change your room in a quick and cost effective way, without the need for extensive preparation or grouting that tiling would take. You no longer need to worry about the grout because there is none! NO MORE BLEECH AND SCRUBBING! All our wall panels are very resistant to mould build up as there simply is nowhere for moisture to become trapped. The panels are super easy to clean as all the water runs off, which is extremely important when it comes to the interior of your shower and bathroom area. All this means that your bathroom will look amazing from the moment you put them in and for many many years to come!
3. Colours, Designs and Style's
We offer a whole host of different colours, designs and textures. Giving you plenty of choice to choose from, adding panels to your room will change the look completely!
4. Install Panels Directly over Almost any Existing Surface
Wall and shower panels can be installed directly over existing tiles, existing panels, plaster board, chip board, painted walls, solid brick or concrete. Panelling boards can simply cover virtually any surface area making this the installation process quick and easy. There is no waiting around for grout to dry or having to leave it for hours and hours, you'll be able to use your bathroom in no time!
How to choose the best shower panels
Your shower panels must be impervious to the effects of water and moisture.
Cheaper PVC panels are at the end of the spectrum with regards to price and because their construction doesn't feature a solid core, they are not nearly as durable – a few bumps and knocks will likely lead to a damaged cracked surface and water ingress. Because PVC panels don't have a real core substance, they will not sit very happily on a bumpy or bevelled wall.
This lack of structural integrity makes it very difficult and far from ideal for use in tongue and groove applications.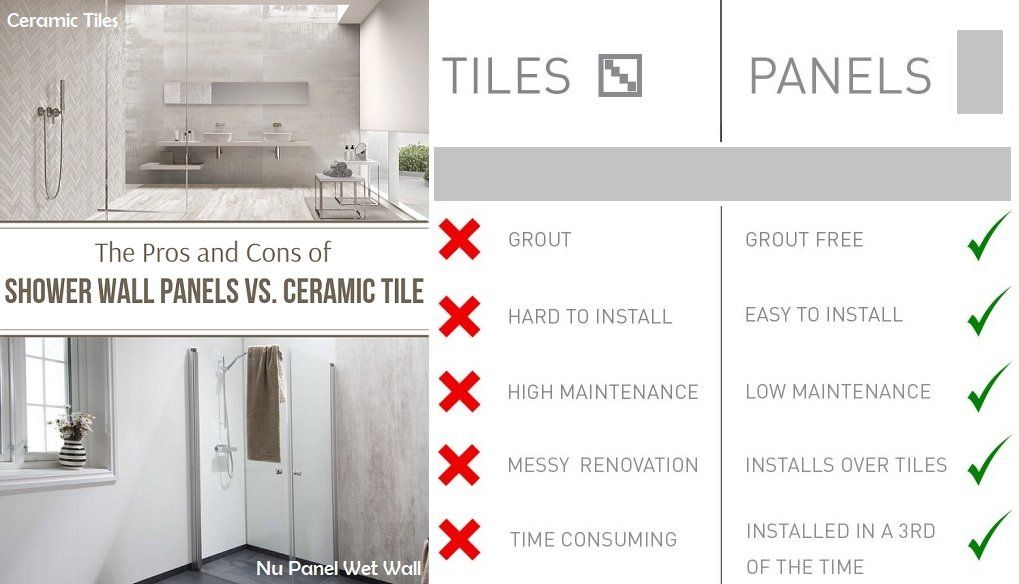 If you need any help deciding we are only a phone call away or come and visit us at our Doncaster showroom where we have numerous panels on display.
Unit 33 Broomhouse Industrial Estate, Wood View, New Edlington, Doncaster DN12 1EQ
Tel: 0800 180 4228